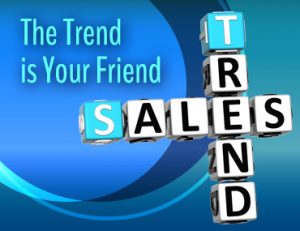 How can you boost commercial print sales in 2018 and beyond?
As they say in the financial industry, the trend is your friend. It means that if the stock market is in a strong uptrend or downtrend, a high percentage of stocks will flow in that same direction. But, in the printing industry, it means as print trends away from traditional markets into new areas, you need to adjust your selling efforts to boost commercial print sales.
Boost Commercial Print Sales
Recently, the Printing Industries of America (PIA) published 25 hot markets in the printing industry 2018 - 2019. It details how strong markets of yesteryear are declining and new, more lucrative opportunities, are emerging. In addition, refocusing your sales efforts on new growth markets will increase your opportunity to boost commercial print sales.
Succeeding in these markets requires skill sets you may not have today. It may require a specialized sales force.
Targeting Specific Verticals Alters Print Sales Job Requirements
In fact, Mark Michelson, Editor-in-Chief of Printing Impressions states, "This may require a re-evaluation of existing salesforces, and perhaps replacing - or at least supporting - generalists with more specialized sales reps who possess strong subject matter knowledge and experience, so they can 'walk the talk' when calling on specific verticals that are being targeted."
There's significant value in hiring business development specialists who have successfully sold into a new vertical market you are targeting. Their contacts and relationships bring you credibility that takes longer to develop otherwise. But, don't think that hiring an industry expert is the answer.
Targeting Specific Verticals Requires More Than An Effective Sales Team
Hiring an experienced rep to develop a target market segment is an expensive investment. And, other complementary expenses are essential if you want that investment to pay off.
Without a doubt, purchasing decisions have evolved:

Buyer research has shifted to online sources - nearly 90% of initial vendor discovery takes place online, not with a sales team
More people are involved in the purchasing process - an average of 17 influencers and five buyers are involved in a typical enterprise account
So, if you make the investment in a specialized sales force, equip your team with these assets to maximize your success.
Communications That Demonstrate You Know What You Are Doing
When you are curious about a company, what's the first thing you do? Conduct research. You visit their website and consume other online and offline information. And, if the data doesn't convey that their services might fit your needs, you move on.
If your printed materials, website and other online information don't convey the value you bring to the target market segment, you immediately handicap your business development team. Moreover, you threaten a positive return on your sales investment.
A business development rep may get you in the door but advancing to the consideration phase requires much more. Demonstrating that you understand your target audience's needs and how the value of your products can eliminate their pain points, are an essential part of the selling process.
Content That Educates, Builds Understanding And Demonstrates Fit
Regardless of the market segment, buyers look online for information as they formulate purchasing decisions. The relationships and industry contacts your business development rep established are helpful but not magical. A high percentage of their phone calls and emails will still go unanswered. Because of these normal selling challenges, they need effective content to educate, build understanding and demonstrate how your capabilities fit your target audience needs. Content resources are essential to connect them with more prospects.
Your audience consumes information online and offline. Websites, blogs, white papers and case studies are the online content preferred by enterprise buyers. But using direct mail and printed collateral to highlight key value differentiators are indispensable.
In addition, integrating content with the business development process has proven to increase sales effectiveness. Useful online white papers, blog posts and case studies can be used effectively online to attract prospects you don't know. And, directly by your sales team as they pursue specific contacts.
Event-Based Marketing And Webinars
Online presentations and events boost your brand's message. They align you with your target audience and are effective in reaching decision makers and influencers.
But, presentations and events require more than a webinar tool or a meeting room. Instead, they require research, preparation, development and execution. Although it requires a budget investment, they can have a big impact on sales success.
An event allows you to demonstrate your specific capabilities. It allows your audience to see how you solve problems and eliminate pain points. In addition, events connect with key decision makers in a way that online content can't.
Although it doesn't have the same personal touch, webinars covering important industry topics also have significant value. They position you as a knowledgeable resource and show how your capabilities can solve end-user problems.
Account Based Marketing
Account based marketing concentrates sales and marketing resources on a clearly defined set of target accounts within a market and employs personalized campaigns designed to resonate with each account.
Using technology to target key accounts improves your ability to provide timely, personalized and relevant information. And, that increases the odds you'll engage with decision makers and influencers.
The average target account contains 17 influencers and five buyers. The influencers and buyers span the organizational chart. From C-level to frontline professionals charged with implementation, they have different needs and decision criteria. An effective account based marketing program provides precise, targeted and personalized information to each influencer and buyer.
That's why account based marketing can improve the outcome. It's ideal for companies that target:

A few large, key accounts
Accounts of a certain size in a specific industry
Are The Investments Obvious?
Providing a key account sales team with resources that increase their productivity and chance to succeed may seem obvious. But, just like a missing ingredient can turn a delicious dish into a failed recipe, sales investments that are overlooked or deemed unnecessary can sour the best sales strategy.
So, as you develop strategies to target a key sector and boost commercial print sales, look beyond the sales hire and include investments that help empower the selling efforts.