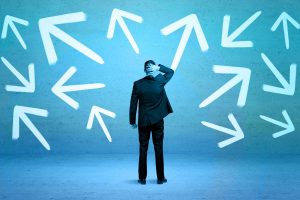 They bombard us. From choosing our morning coffee to relaxing in front of the TV at night. Options. In fact, Starbucks can brew up over 8,000 different combinations to satisfy your need for caffeine. And, U-verse delivers north of 400 stations in genres ranging from cooking to martial arts for your viewing pleasure. Although these endless options should make us happy, that's not how it works. Instead, it creates decision paralysis. And, research shows that if you're surrounded by an abundance of options, you typically end up less satisfied with your final decision than if you were given fewer choices in the first place. So, when thinking about how to expand your business, here's a good option - narrow your focus.
Narrow Your Focus To Expand Your Business
A six-color Komori G40 Lithrone press can produce nearly any printed product on materials ranging from a thin sheet to a thick board. But just because you can produce a vast array of print for almost any company doesn't mean you should. In fact, narrowing those production capabilities - and your focus - often improves the business outcome. Furthermore, by targeting your capabilities you benefit by:
Learning industry nuances that allow you to better serve specific market needs
Differentiating your brand from competitors
Improving your products and services
Selling more business
Read The Develop Effective Marketing Programs Blog Post
Expand By Not Expanding
Plus, the strategy of narrowing your focus allows you to minimize additional capital expenditures by leveraging current investments. In addition to the low cost of entry, targeted capabilities can add clarity and strengthen your overall offering.
Target A New Market Segment
For example, a company that sells to the healthcare market recently developed a new product offering that targets medical marijuana producers. Moreover, with the recent passage of the Farm Bill, ingredients such as CBD from the hemp plant are now legal. Since producers of CBD use products similar to medical marijuana companies, the company targeted those organizations as well. As a result, the printer was an early mover into two complementary and fast-growing market segments.
If you serve specific market segments today, consider expanding into others with upside potential like these. If you don't serve specific segments, then develop a plan to do so.
Target By Specific Products
Years ago big box stores reigned. From clothes and jewelry to hardware and appliances, they carried it all. Then specialty stores opened. Instead of a little of everything, they provided a larger selection of just a few things. Plus, they provided a premium in-store experience, personalized and tailored to the customer, that relies on their product expertise.
Regardless of the types of products you produce, becoming that specialty provider can elevate your position. Rather than general printed materials, productize categories you currently print like brochures, corporate social responsibility reports, signage and packaging. In addition, combine a strategy element to your product offering. When doing so you deliver an expertise that generalists will never be able to mimic. Here's what I mean. Combining services like customer modeling, persona creation and conjoint analysis with brochure production allows you to uncover and better understand the needs of your customers' target audience and develop more useful printed materials. Ones that provide a greater return on their investment.
It's true that many prospects only want you to reprint or make minor changes to a previous version but you can develop far deeper and more profitable relationships through a specialized offering.
Furthermore, a targeted offering can drive production efficiencies and profitable production runs.
Target By Customer Type
Many years ago, after moving into our first house, we consulted a landscaper to help us improve the curb appeal. We had read about his company in the local paper which chronicled his work in one of the more expensive subdivisions in town. After touring our yard and hearing our questions about relocating some of the current plants instead of buying all new or doing some of the work ourselves to keep costs in check, he berated us for being cheap. We weren't his ideal customer nor was he our ideal landscaper.
But, just as there are customers who want to economize, there are others who are willing to pay list price for services if they perceive the value. And, you can target either option. Lower cost materials and streamlined workflows can reduce your price point and cost structure. Or, you can cater to the opposite extreme, clients who appreciate additional features, personalized service and don't mind the costs that come with it.
In addition to the economy or luxury type buyers, you can target:
Buyers that need extra time, attention and hand holding
Values including sustainability, privacy and more
Specific cultures
Small business or large business
Specific geographic regions or metro areas
Unfortunately, they don't sell a list of prospects that fit each of these categories. However, by positioning your organization appropriately and doing your homework you can identify viable targets.
InterEdge Marketing
InterEdge Marketing helps you expand your business through effective business strategies and marketing programs. Contact us for more information.