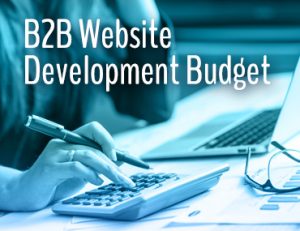 How should you formulate a website development budget? Let's take a page from home improvement.
Have you ever undertaken a home improvement project and had that budget conversation with your contractor? If so, you know about costs that impact the construction. There's the structural and common sense construction costs. The ones most qualified contractors recommend. These are the parts that are required by code or that just make good building common sense.
But, you also know that a significant portion of the costs hinge on numerous variables including:

The type of appliances
The type of countertops
The wood used in the cabinets
The type of flooring
The cabinet hardware
It's endless.
In fact, some contractors may skimp on certain sensible construction practices to offer a lower project cost or even pad their profit. You might not notice these short cuts for a few years until various things don't work right (usually after the warranty expires).
Formulating A Website Development Budget
Experiences like these help you prepare for website development budget conversations.
And, like well executed home improvement, a website that starts with a solid foundation and includes options that meet your business goals and budget guidelines, creates the best outcome. Plus, this approach assures that you can expand if needed, without starting over.
Create A Strong Foundation
A website foundation includes basic necessities such as web hosting, back up, security, content and images. They are the concrete, 2x4's, nails and dry wall of your website. Uninformed buyers might compare foundation costs and choose the cheapest option. Certain sellers may promote a weaker foundation to lower costs and make them look more competitive   But, just like construction, you need to choose your materials wisely. It will impact your website uptime, security and ultimately the customer experience. And, making the right choices will  save you money in the long run.
Website Hosting
Hosting your website in the right environment and on the right server is the difference between long term success and pending disaster. Choosing the right host can produce faster page load speeds, improved search engine performance, and even support in critical situations.
SSL Or Security Certificate
An SSL (secured socket layer) certificate ensures the sensitive data of your website's visitors will be transferred over a secure network. So, it encrypts the connection between you and your users, protecting email addresses, personal data, payment information and more. But, even if your data collection is minimal, an SSL Certificate increases your credibility and trust. Further, Google gives sites with SSL certificates a slight boost in search rankings.
Automated Backup And Security
Site hacks are indiscriminate. Although popular websites like Amazon are more common targets, yours is still at risk. That's why investing in automated backup and security is important. This typically includes:

Daily malware scanning
Scheduled or on-demand backups
Continuous security monitoring
Easy one-click restore
24/7 customer support
Building The Website
From developing and programing the site from scratch to using a Content Management System (CMS), there are numerous options available to build your website.
CMS
A CMS enables you to publish and manage a website. Common CMS platforms include:

WordPress
Joomla
Drupal
Typo3
And more
The best options provide a high level of customizability. They enable you to add almost any feature you want, which in turn allows you to create a more advanced website.
Core Programming
You can build complete websites using programming languages such as PHP or ASP.NET. Because you start from a blank canvas, a site is typically more expensive and time consuming to build. However, the flexibility is significant. You can add dynamic components, integrate databases of any size and incorporate great features that satisfy almost any website need.
Website Builder
A website builder allows you to create websites without the programming knowledge. These simplified applications provide a drag-and-drop editor allowing you to design the site. However, they are limiting, offering few customization options and little control over the way your site is set up.
Content
A well designed website that makes a positive first impression is essential. But, to get customers and prospects to learn more about you requires effective content. It's essential to convey your unique selling proposition and the value you provide.
Images
Images convey understanding in a way that written content can't. Companies use visual images of their products, customers, staff, facilities, events and more to grab the consumer's attention and increase their understanding of your capabilities. Plus, images enhance the user experience making your site more welcoming and easier to consume.
Optimization
A great design and user experience makes it more likely that website visitors will engage with you. But, they won't engage if they can't find you. Site optimization makes it more likely the people who look for your capabilities will find you online. And, it's a foundational piece of an effective website.
Website Development Budget Foundation Costs
Although the website development budget considerations for these foundational pieces don't vary like the options that follow below, there are differences to consider.

Website Hosting - Costs can range from a few dollars a month for the most basic site with the least security to thousands a year for robust ecommerce applications. Hosting costs for a solid B2B website will cost around $600 - $1,200 annually.
SSL Certificate - if you don't transact payments online an SSL certificate will cost $150 - $300 per year. But, the costs rise to as much as $2,000 if you add basic ecommerce to the equation.
Building Your Website With Content - From a basic website builder application to high end ecommerce, costs can vary from $50.00 per month to tens of thousands annually. But, developing a B2B site that includes effective content will run between $5,000 - $20,000.
Optimization - Basic site optimization will add approximately 10% to the website development costs. Ongoing, highly effective optimization that returns first page results for key search terms adds $1,000 - $3,000 a month.
Add The Options That Fit Your Needs And Budget
If you are Bobby Flay or an aspiring iron chef, your home improvement project included a gourmet kitchen. And, as a result, a gas range, convection oven and practical and posh cabinetry were high on the list of options. Taking that same approach with your website will help you arrive at the options you need for the goals you want to accomplish. So, start by listing the functions you need your site to perform. For example,
Content Options
Attracting and building relationships with prospects requires a content investment. Both prospects and search engines value fresh content. A B2B organization should consider these options.
Blog
A content publication strategy starts with a company blog. It increases your search visibility, leads, and sales. It gives your business a way to touch on issues and concerns of interest to your prospects, while also sharing company insights. There are numerous other benefits that you can read in more detail here.
Educational Content
70 - 90% of the time, your prospects self educate and learn about your capabilities online before speaking with a company representative. Case studies, white papers, articles. E-books and more are types of educational content you can use to connect with your audience.
Videos
Videos can get information across to searchers with less effort and in a more engaging way. B2B organizations use company overviews, products or services overviews, how-to or explainer videos and testimonials to communicate useful information.
Infographics
The best types of content go beyond the written word. Information graphics, or infographics, are graphic visual representations of information, data or knowledge intended to present complex information quickly and clearly.
Lead Generation Options
Effective lead generation is more than a lonely form on a contact us page. So, if utilizing your website to connect with prospects and generate new revenue opportunities is attractive, there are steps you should take to enhance the process.
Landing Pages
Effective landing pages encourage prospects to exchange their information for the valuable data. They are topic specific and include an offer to download a white paper, ebook or other useful information. With buyers self educating and researching options in advance of conversations with sellers, landing pages allow you to develop qualified leads and relationships that are more likely to turn into sales.
Contact Forms
A landing page includes a contact form. And, a form designed to download a white paper is very basic. But, one that encourages an estimate request is more complex and costs more to develop.
Marketing Automation Or Email Service Provider
Although neither marketing automation nor an email service provider are not part of website development, both can elevate your ability to connect with new prospects. To supercharge the lead generation process, you should consider each application. You can learn more about each one here.
Ecommerce
Do you have products that you can sell online? If so, adding an ecommerce functionality may allow you to expand your reach and increase revenue. There are numerous applications available that allow you to execute sales online. A simple option with limited functionality, such as adding a Shopify button to your website, is inexpensive. In addition, you can utilize an ecommerce plug-in for the CMS system you select. Or, consider a CMS system built for robust ecommerce needs like Magento. Both are more complex and costly.
Costs For Options
The website development budget for the options above vary widely. And, they essentially fall into two categories, content and automation.
Content
There are numerous types of content but, here are a few of the most effective.

Blog - Costs range from a few hundred to $2,000 depending upon length and amount of research
Educational Content - The length, complexity and amount of research create significant cost variations ranging from $750 - to a few thousand
Videos - Professional videos will cost $1,000 - $10,000 and more depending upon length, production needs and more.
Infographics - Again, cost vary depending upon research, length and complexity but expect the costs to range from $500 - $1,500.
Lead Generation
Companies use lead generation to target their prospects and trigger follow ups that engage those prospects more effectively.
Landing Pages - Building a landing page is just adding a very targeted new page to your website. You can expect to spend $500 - $1,000 on pages that include forms that route to your team for appropriate follow up.
Contact Forms - A landing page includes a contact form. And, a form designed to download a white paper is very basic. But, one that encourages an estimate request is more complex and costs more to develop.
Marketing Automation - the primary cost driver for marketing automation is the amount of contacts you send emails to each month. But, expect to pay $1000 and up monthly. In addition, if you outsource campaign design and development it will further increase expenditures by at least a few hundred, depending upon how many you facilitate.
Email Service Providers - like marketing automation, cost drivers include the amount of database contacts you mail to monthly and the amount of campaigns you run. There are free or very low cost versions with limited functionality that allow you to send emails to your database. However, better tools will run $50 - $1,000 per month. And, outsourcing campaign development will add at least a few hundred, depending upon how many you facilitate.
Ecommerce - Shopify or a WordPress plug-in are inexpensive but have limited functionality. Systems like Magento can serve high end ecommerce needs. But, for a B2B company with regular transactions the investment starts at $10,000. Depending upon the integration with legacy systems, the price can exceed $100,000.
Click here
for a more detailed look on content options and the associated costs.
Maintenance And Updates
Similar to your home improvement project, the finished product looks great upon completion. But, in a few years a fresh coat of paint, refinished floors and other design upgrades keep it looking fresh and new.
A website requires similar but more immediate attention. Whether it's updating and adding content, changing out images or upgrading website and plugin software, maintenance is essential to getting the most out of your investment.
A website isn't a set it and forget it proposition. Instead it's an ongoing work in process.
Costs For Maintenance And Updates
Maintenance And Updates - For a small to medium size B2B website, maintenance costs run from $100 - $250 a month.
Take The Next Step
In fact, the most important first step for a website development budget is to define your business goals. From there, you can add the options that will help you achieve them. When you start with a strong foundation and then add options that increase it's functionality you will maximize your return on investment.
InterEdge Marketing provides website marketing strategy, content marketing and lead generation programs that help organizations drive revenue. Subscribe to our newsletter to get bi-monthly tips on how to elevate your marketing programs.